For Endurance Coaching, Ironman Triathlon, Ultradistance Racing, Training Camps, Sports Writing and Photojournalism, click here to be redirected to the Endurathon.com site. See Tom featured in the movie trailer for BICYCLE DREAMS (click below).
For prior career projects at NASA, click here to visit his experimental rack, the Human Research Facility (HRF) flying aboard the US Destiny Lab on the International Space Station. He also developed avionics control software for the NASA X-38 Crew Recovery Vehicle (CRV).
Left: HRF-1 Experimental Rack Designed by Tom Rodgers (Lead Biomedical Engineer). Right: Science Officer Michael Foale is shown wearing a customized Lower Extremity Monitoring Suit (LEMS) on HRF-1 aboard the ISS.
Below: X38 (CRV) in NASA hanger and during descent before parasail deployment.
For prior career projects in Internetworking and Telecommunications: if you are accessing this web page through a DSL or Cable modem connection in North America or Europe, you are probably executing switching systems code he helped to design for DSC and Alcatel and then helped to deploy at MCI and Sprint in the 1990s. He has been working on the internet since 1981 and was a pioneer of SGML and HTML which eventually led to the worldwide web.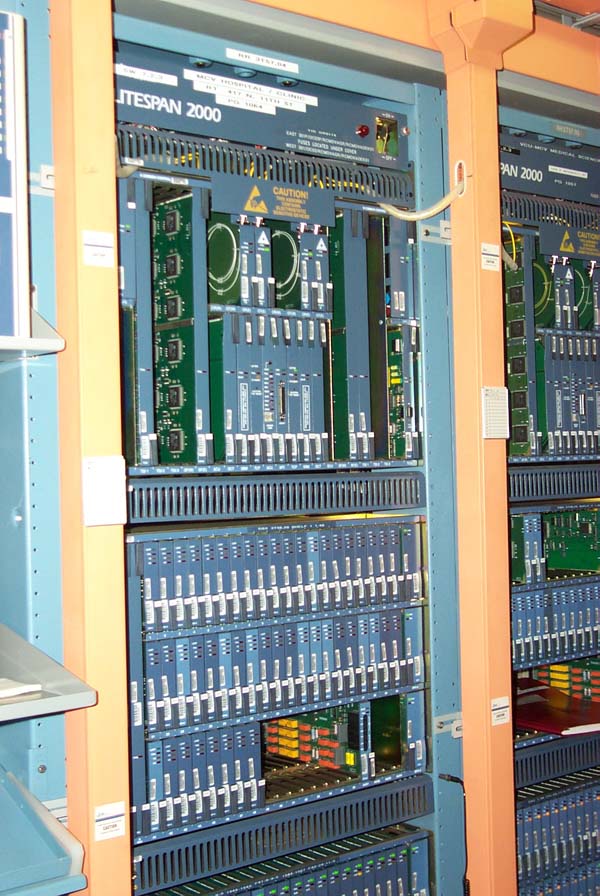 Alcatel-Lucent (formerly DSC) Litespan 2000 Switch, with Command Code Software by Tom Rodgers